Courses, seminars, outfitting and small events in Factory
The concept of Mostrami Factory: if you are looking for a location to organise courses, exhibitions, your birthday party or an event, you have found the right place!
Mostrami Factory is not only a contemporary art gallery for emerging artists, but also a multifunctional concept for the organisation of courses, birthday parties and small events.
How many times have you spent days looking for a location in which to celebrate your birthday party in an original way or to promote a small event, finding only the same old concepts? Are the costs too high, the neighbourhood too far away or the location too small? Mostrami Factory is the right compromise: two wide rooms, a basic equipment, artistic concept, lots of emerging art, various creative activities, the right dimensions, easily reachable neighbourhood with public transport and above all moderate costs!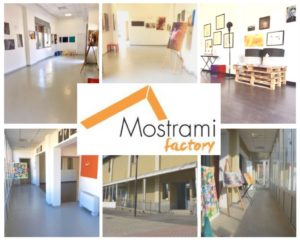 Some examples of activities in which you could include our performance and artistic activities:
meetings, courses
exhibitions, outfitting, installations
birthday parties for kids and adults (without Dj-set)
graduation parties
happy hours and company parties
runaway shows for young emerging stylists
temporary shop (also in coincidence with Salone del Mobile)
exhibitions of artistic creations and design products
seminars
Here are the main characteristics of Mostrami Factory:
a set of artistic activities and services for your event
135 mq of total surface, without any architectonical barrier
two wide in-door rooms, well-lit, with the capacity to accommodate 80 people
bathroom
tables and chairs
air-conditioning for every season
an out-door space in the internal square of Fabbrica del Vapore
fridge
portable video projector
Here you can find the some photos of the location.
These are the costs of Mostrami Factory:
service cost: starting from 500/600 euro (depending on the period, the services and the facilities requested)
time schedule: 5 hours to be confirmed with the client between 9 a.m. to 11 p.m. – from Monday to Sunday
cleaning service for the location: 40 euro
deposit: 300 euro
What about the payment? A down payment of 100 euro plus IVA upon confirmation, while the rest can be paid at least 5 days before the event.
We are always available for potential visits to the space or to talk. Get in touch with us via email to the address info@mostra-mi.it for any information. We will wait for you in Mostrami Factory, at Fabbrica del Vapore in Milan!